New Latest Rose Mehndi Design – Mehndi is an ancient art form that has been used for Centuries to adorn the hands and feet of women in India, Pakistan, and other parts of the South Asian region. The practice of applying mehndi, also known as henna, is steeped in Cultural and religious significance and is often associated with special occasions such as weddings and festivals.
One of the most popular designs seen in mehndi's art is the rose. In this article, we will explore the history of rose mehndi designs, the latest trends in this style of mehndi, and tips for choosing and applying the perfect Rose Mehndi Design.
The history of rose mehndi designs can be traced back to ancient Egypt, where the art form was 1st developed. The use of mehndi in India, Pakistan, And other parts of South Asia can be traced back to the Mughal Empire, which ruled the region from the 16th to the 19th century.
During this time, Mehndi designs were highly influenced by Persian and Arabic art, and the rose was a particularly popular motif. Roses have always been a symbol of love, beauty, And femininity, and it's no surprise that it has become a staple in mehndi designs.
Latest trends in rose mehndi designs include:

Use of bolder, more intricate patterns
Incorporation of other floral motifs such as lotus, peony, and lily
Use of different shades of mehndi, such as red and black
Incorporation of other elements like glitter, beads and stones

Factors to consider when choosing a rose mehndi design:

Skin tone (darker skin tones can carry off bolder designs, fairer skin tones may look better with simpler designs)
Personal style (traditional or modern, simple or bold)
Occasion for which the mehndi is applied.
One of the best ways to find inspiration for a rose mehndi design is to look at pictures of different designs online or in mehndi design books. You can also consult with a mehndi artist to create a custom design that is tailored to your individual preferences.
When applying mehndi, it is important to make sure that the paste is of the right consistency and that the design is applied evenly. It is also important to ensure that the mehndi is left on the skin for long enough to achieve the desired color.
Once your rose mehndi design is applied, it is important to take care of it to ensure that it lasts as long as possible.
To care for your mehndi, keep the design dry for the first few hours after application.
Avoid the use of soap or water on the design for at least 24 hours.
Apply a mehndi sealant or coconut oil to help seal in the color.
As the mehndi starts to fade, it can be removed with a mixture of sugar and lemon juice.
Alternatively, use a specialized mehndi removal cream.
In conclusion, rose mehndi designs are a timeless and beautiful art form that has been enjoyed for centuries.
Whether you prefer a traditional or modern look, there is a rose mehndi design that is perfect for you.
Rose Mehndi Design Simple
Simple rose mehndi designs have become increasingly popular among women who want to Incorporate traditional henna art into their daily lives. These designs are characterized by their minimalistic, elegant, and uncomplicated patterns, featuring one or a few roses & rosebuds, often combined with small leaves and tendrils.
These designs are perfect for those who want to add a touch of elegance and tradition to their look Without overwhelming their hands with complex and detailed patterns. The simplicity of the rose Mehndi design allows for easy maintenance and longevity of the henna stain, which can last up to two weeks.
The use of a single, bold rose or a spray of small roses can make a statement and be a great option for those whO like to keep it minimalistic.
Which Mehndi is long lasting?
The answer depends on what you want your design to last for – a few hours or days. If you're looking for a design that will last for only a few hours, then it's best to use henna paste or henna powder because it dries faster than regular liquid mehndi. If you want your design to last for days, then it's best to use liquid or paste because it takes longer for dried designs to wear off.
Mehndi designs are typically temporary, but this doesn't mean that they can't be long-lasting. Some designs are made to last for a few weeks, while some can last for months.
Rose mehndi is The most popular design in India and it lasts for one month. It is also a popular design among brides who want their hands to look beautiful on their wedding day.
Several factors can affect The longevity of mehndi, including The type of henna powder used, The freshness of The mixture, and The care taken to preserve The design after it is applied.
Mehndi made from pure, high-quality henna powder and mixed with natural ingredients such as lemon juice and essential oils will result in a darker, longer-lasting stain.
Keeping The mehndi design away from The water can also help to extend its longevity.
Applying a mixture of lemon juice and sugar to The design can also help to extend its longevity.
Which mehendi is good for a bride?
There are three types of mehendi designs: rose, peacock, and crescent moon. The rose pattern is considered to be auspicious for weddings while The crescent moon pattern is considered to be good luck for brides who have had a difficult past or those who feel they have not had enough blessings in their life. Here are some types of mehndi that are commonly used for bridal designs:
Rajasthani mehndi: This style of mehndi is known for its intricate and detailed designs, often featuring traditional Indian motifs such as paisleys, elephants, and peacocks.
Arabic mehndi: This style of mehndi is known for its bold, geometric patterns and use of negative space. It typically features large, symmetrical designs that cover most of The hand.
Pakistani mehndi: This style of mehndi is known for its dense, fine patterns and use of delicate details. It often features a combination of traditional Indian and Arabic motifs.
Black mehndi: This type of mehndi is made from a special type of henna powder that is mixed with other ingredients to produce a dark black color. It is known for its long-lasting and dark color.
It is a popular practice among Indian brides to get mehndi done before their wedding. If you are getting married in The next couple of weeks, you might want to know which type of mehndi would work best for your wedding outfit.
For brides who want to get mehndi done for their wedding, they must choose The right type of design for their outfit and skin tone.
These days, mehendi has become a very popular option for brides. It is not just a traditional Indian tradition, but also an international trend. Mehndi's designs are getting more intricate and unique each day.
Various types of mehendi are available in The market today. Some of them have a long-lasting effect while some need to be reapplied after a few weeks or months. The choice is primarily based on The type of design and The length of time required for it to last.
Rose mehndi design Front Hand
The rose mehndi design is a beautiful and elegant choice for The front of The hand. This design typically features a central rose, surrounded by a network of delicate and intricate details. Some common elements included in a rose mehndi design are:
The central rose: This is The focal point of The design, and can be rendered in a variety of styles, from realistic to stylized.
Curling vines: These are often used to connect The central rose to The rest of The design, and can be decorated with leaves and buds.
Leaves and buds: These are added to give The design a more natural and organic look.
Dots and paisleys: These are used to fill in spaces and add visual interest to The design.
The overall design is symmetrical and well-balanced.
Rose Mehndi Designs Full Hand
A full-hand rose mehndi design is a stunning and intricate way to adorn your hands on your special day. This type of design typically covers The entire hand, featuring a central rose as The focal point and a variety of other elements to create a cohesive and detailed look.
A full-hand rose mehndi design can also include other elements such as:
Intricate patterns and details like paisleys and mandalas.
Traditional motifs such as The elephant and The peacock.
The overall design is symmetrical and well-balanced.
This type of design is perfect for brides who want to make a statement with their mehndi and want a more detailed and intricate look. It can also be customized to suit The bride's preferences and The style of her wedding.
New Latest Rose Mehndi Design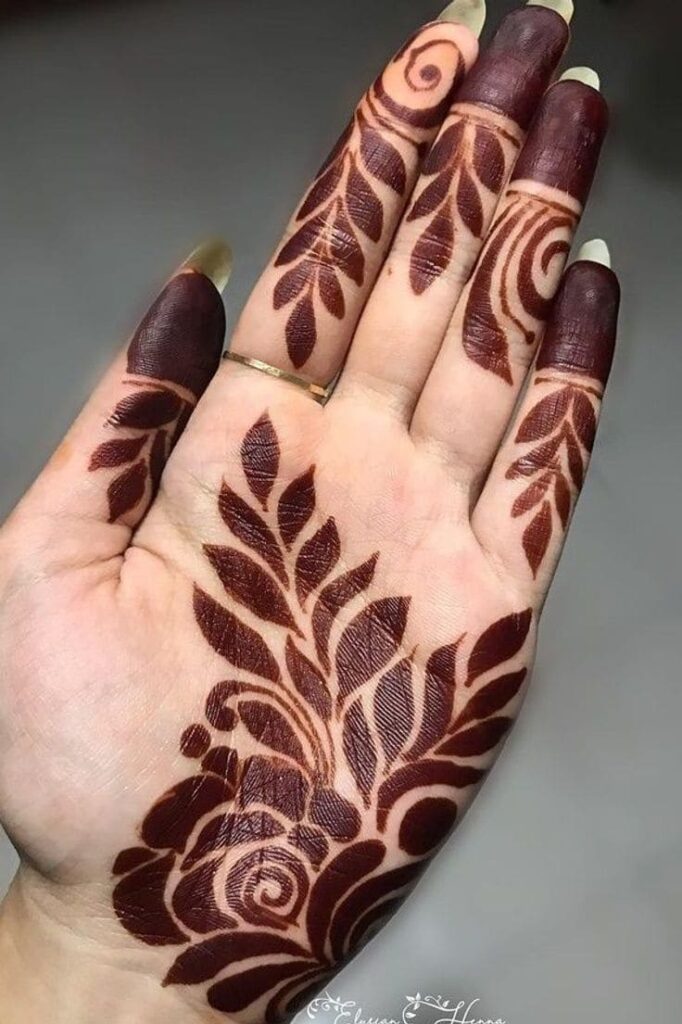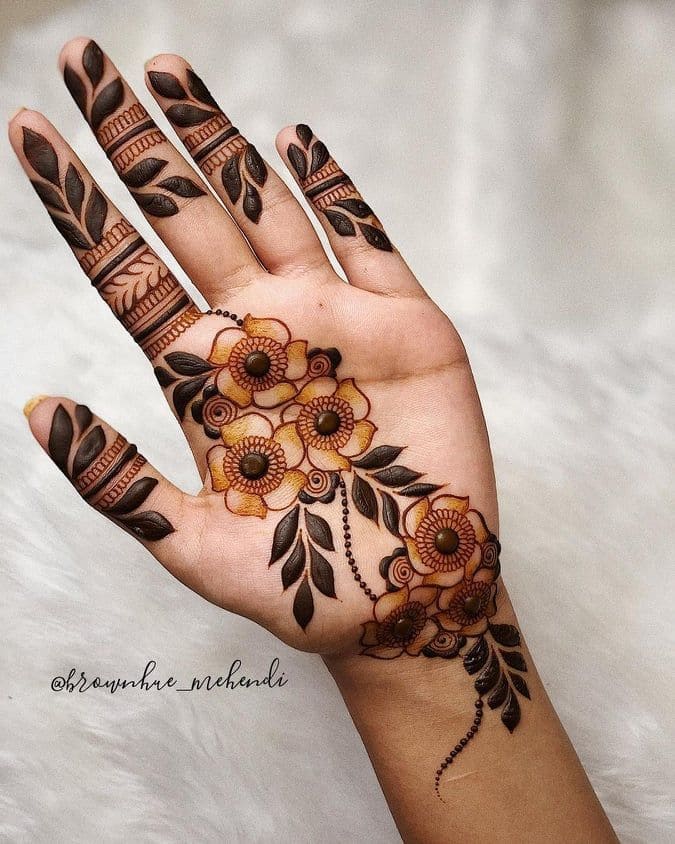 "@mehndidesigns00: @fatimazehra007 pic.twitter.com/UpQ3ClgKtQ" Roses

— Mehndi Designs (@mehndiandhenna) September 29, 2014